Welcome to Jarvis Art Studio
Jarvis Art Studio specializes in the design, painting and installation of murals and large scale visual media for residential, corporate, non-profit and public purposes, nationwide. We will work with your company to create visual communication solutions on a large scale that bring attention to your brand and give you a more creative way to advertise your message.
For our residential clients, we produce everything from small bedroom murals in your home to murals that cover every square inch of a large room. Our work is either painted on-site at your location or off-site and later installed.
Contact us to receive a free consultation and quote to find out how Jarvis Art Studio can completely revitalize and transform your space.
Check out what we can do for you:
Promote Your Brand – For our client Beam Global, Jarvis Art Studio Inc., created a

50 foot mural

in a bar to advertise their products; Pinnacle, Makers Mark, Jim Beam, Courvoisier, Canadian Club and Sauza.
Restaurant Murals – Add a one-of-a-kind mural in your restaurant that will create a unique atmosphere, as we did for

Mellow Mushroom

and

Chile Verde

.
Corporate Art – Commission a painting or mural that will display at your company's headquarters and energize your corporate culture, as we did with a

painting for Fujitsu Network Communications

.
Residential Murals – Turn your

Theatre Room into a pirate ship

or your

swimming pool room into a tropical paradise

. Prepare for a new baby with a calming

nursery room

or add some creativity to a

child's room

.
VIDEO
A time lapse video of a mural we did in collaboration with Harmony Project.

---
A time lapse video of a mural we did for Fujitsu in Dallas, Texas.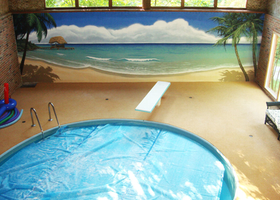 "We LOVE the mural! We get compliments on it every single day! You took an old ugly outdated pool room interior brick wall and made it a beautiful Jamaican scene... just like my and my husband's favorite beach in Negril, Jamaica!"
~ Jennifer Mills, Delaware, OH
More Testimonials